Glaucoma is one of the most often-cited reasons for medical marijuana and by which the federal government once allowed compassionate marijuana use. As early as the 1970's, research shows that both marijuana and THC reduce intraocular pressure which is a key contributor to glaucoma.
The initial reports generated significant interest since conventional medications for glaucoma at that time caused a number of adverse side effects. However, through the years, other treatments and new generations of glaucoma drugs had been discovered that were expected to treat the disease more directly.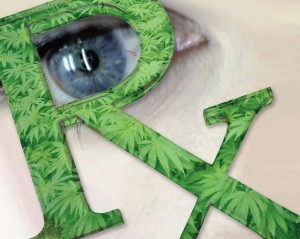 Glaucoma, affects more than 60 million people worldwide and is a leading cause of blindness after cataract. Primary Open-Angle Glaucoma (POAG) is the most common condition which destroys cells in the eye's retina and degrades the optic nerve. These losses then constrict the visual field along with the patient's sight.
Several clinical studies have shown that marijuana reduces intraocular pressure (IOP) as effectively as most conventional medications for glaucoma. The cannabinoids are administered orally, intravenously, or by inhalation but not by direct application to the eye. It has been proven that marijuana reduces IOP significantly in glaucoma patients and healthy adults with normal IOP. Most of the trials revealed that a single dose of marijuana sustained this effect for three to four hours.
How marijuana reduces IOP has yet to be explained by researchers. It is notable, however, that marijuana-based treatments for glaucoma have their drawbacks. Among others, it reduces blood pressure and causes psychological effects that some people find unbearable, especially among elderly. These could be problematic.
All these effects could be challenging for people who are at risk for cardiovascular disease and stroke. Also, reduced blood pressure may decrease blood flow to the optic nerve which could counteract the benefits of reducing IOP. Another factor to consider is the brief duration of its effect whereby marijuana-based medicines have to be administered up to eight times a day, compared with other medicines that need to be taken only once or twice a day. This difference is essential because patients need to control IOP continuously due to the progressive nature of glaucoma.
It is probable that in the future, researchers may produce synthetic cannabinoid analogs that may last longer and have fewer side effects. There is no question that marijuana-based medicines can be used to lower IOP but its efficacy must be improved to reverse the current situation where its drawbacks outweigh their benefits.